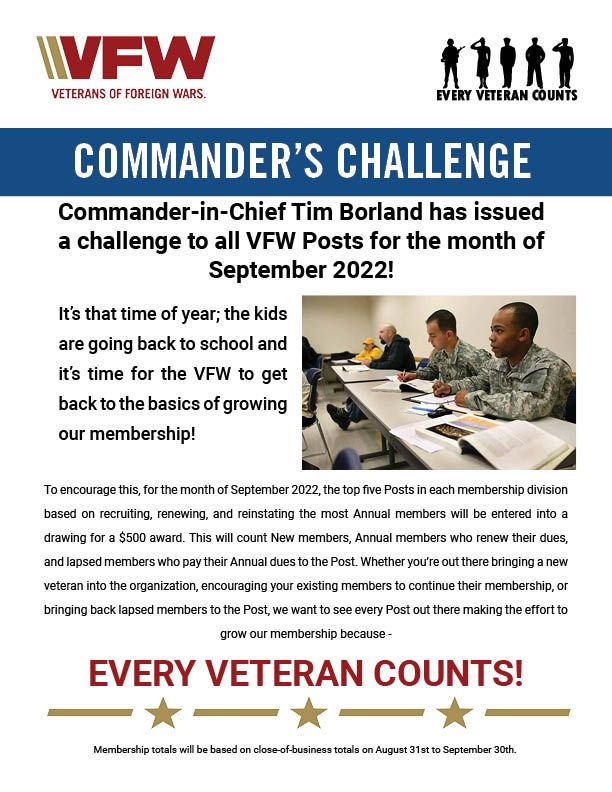 Comrades,
First off, I'm pleased to say that the 2022-2023 membership year is getting off to a great start! With the goal of membership growth – reaching beyond the 100% mark – Commander-in-Chief Tim Borland has set out the first Commander's Challenge for the membership year.
During the month of September 2022, we're going to be focusing on increasing our Annual members. This is going to count new members, continuous members who renew during the month of September, reinstated members, and dues-paying transfers. At the end of the month, we're going to take the five top Posts in each division and hold a drawing for a $500 award to be deposited directly into the Post account.
Getting off to a strong start in the first quarter of the membership year is imperative to building momentum that will continue throughout the year. We have our goals and the tools necessary to achieve them. All we need is the motivation and the call to action – and that call has gone out. Remember when we're out there speaking with our members and the veterans in our community, that EVERY VETERAN COUNTS.
Make sure to pass this information down to the Districts and Posts, let them know about this challenge and motivate them to get out there to recruit, retain, and recover members!
As always, the Membership Department is available for assistance, information, or to answer any questions that you may have. Feel free to give us a call at 888-564-6839 or email us at membership@vfw.org.